A major supporting character in The Ballad of Adler Young, he is a skunk.
Estmere is the only child of King Gawain Adlersson and his mate, Queen Persephone. Not long after his birth, Queen Persephone vanished mysteriously, quite possibly as the result of a conspiracy. As such, Estmere was raised largely by a caprine nanny. This had an important effect on his personality, as he grew to associate female ungulates with love and affection; certainly he received rather little from his stern father.
While Estmere had a great deal of the physical strength and fortitude of his ancestors of the House of Irenaeus, because of the swapling nature of his mother, his magickal ability was poor to non-existent, causing concern among many for the continued stability of the Empire and of Faerie itself.
A further complication arose in the fact that Estmere had little or no taste for mephitesses, instead choosing to give all of his (substantial) romantic affections to ungulates. Or, as one character in the Ballad puts it: "he likes 'em with hooves." Prominent among these would be two of his councillors, Dodie O'Doe and Lana Lynne.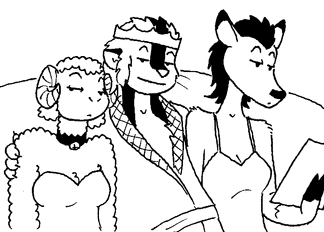 Estmere's relationship with his half-brother Adler Gawainsson is complicated. On the one paw, he regularly found reason to slug his brother on the shoulder, and on occasion even had punch-ups with him. On the other paw, he was ready to adventure with him in Lowfolk Country, and even more importantly, legitimize him, and appoint him as Marshal of Faerie.
In Zandar's Saga, another story by J.W. Kennedy, we see remains of King Estmere seated upon his Coronation Chair, his crown upon his head (see episodes 279-283).